Avenues of Service
We channel our commitment to service at home and abroad through Avenues of Service, which are the foundation of club activity.
Each club member chooses a particular avenue of service that they would like to specifically devote their attention to.  Each team has a Director. Come along and meet ours:
Youth Services Director – Jo McPherson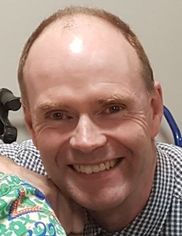 Jo McPherson has accepted responsibility for Youth and Student Services in the 2021/2022  year. Over many years, the Club has made a significant commitment to the learning and education opportunities for local young people, and we are set to continue this recognition and support this year.
To learn more about each of these initiatives, please visit our Youth page.
•   RYLA - Rotary Youth Leadership
                 Awards
•   RYPEN - Rotary Youth Program of
                    Enrichment
•   NYSF– National Youth Science Forum
•   Science Experience
•   Local School Scholarships
•   MUNA - Model United Nations
                  Assembly
•   World Challenge.
Community Service Director - Marilyn Merrifield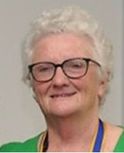 Marilyn Merrifield has taken up the challenge in the 2021/22 year, as the Club's Community Service Director. 
Marilyn's background and considerable experience working in community organisations, together with her interest in all things community, means that she is an ideal appointment for this portfolio. 
She is working to engage with local community organisations and individuals and making recommendations on how the Club can 'make a difference'. 
Membership and Vocational Services Director - Claire Burns
After great success during the 2020/21 year, Claire Burns, is once again 'hard at it' in the critical portfolio as Director for Membership during this 2021/2022 year.  Her work includes engaging new members, providing a solid mentoring system for new members,  whilst at the same time supporting our current members.
She is also engaging with our business community, bringing together businesses and Rotary for common good. 
International  Director - Neil Stitt
Neil Stitt has signed up again this year (2021/22) for the important portfolio of International and Foundation.  As a significant international organisation, Rotary clubs, working with local communities, are making a big difference in developing countries, making a world-wide impact.  
Neil also leads the events team for the monthly Rye Foreshore Market. 
Environment Director - Gordon Hollonds
Rotary International has added a new Avenue of Service - Environment. Taking up this new challenge is Gordon Hollonds, who is eminently suited to this portfolio. His interest in the environment and commitment to how Rotary can be involved is currently being seen in a number of ways. 
As a member of the team that recently led the installation of a new Rotary Warehouse Solar System, Gordon supervised the installation and monitors output and savings in Co2 emissions and fuel saved.
Gordon is also the Club's representative on the District 9820 major Rotary Centenary (R100) project to complete, connect and improve the Bay Trail.
Technology / IT / Support Director - Bernard Wong
Another new portfolio in this 2021/2022 year is the Technology/IT/Support directorship, and Bernard Wong is well qualified to take up this new role.
Bernard is continually looking at ways the club can respond to the ever-changing digital transformation, supporting Club members and ensuring the member and visitor experience is enhanced.
Bernard also is providing support and further improvements in the cash handling and banking functions.