About the Rotary Club of Rosebud-Rye Inc.
Club Members at the Club's Changeover - 30 June 2021
District Conference - Traralgon - Protecting the Environment. 
What a treat was in store for us at the District Conference, held at the brand-new Performing Arts Centre, during the last weekend in February. Seamless and professional planning was evident in the smooth running, the delicious treats, musical interludes by young musicians, and the thought-provoking program.
Each of the speakers engaged us in a range of topics that were enlightening, uplifting (isn't Fiona Woods AM, our burns specialist, always wonderful to listen to!), and heart warming.  Each speaker provided a call to action, motivating us, as Rotarians, to go back into our communities and 'keep up our good work'.
Thank you to the excellent team for the great organisation - and particularly our club members for choosing our excellent accommodation and perfect dinner venues. A hard act to follow for us to present next year's conference at RACV Cape Schanck Resort. 
Pic: Rotary Rosebud Rye members enjoying the District Conference.  
We support others - locally, nationally, globally
Some Current and Recent Projects
Supporting our Local Community
Rosebud Secondary College
-  Wellness Pavilion
We are proud to partner with Rosebud Secondary College for their bold new initiative - the Wellness Pavillion, designed to support people - both students and adults from the community - with their mental health needs.  
It has been many years since the club provided seed funding to support the initial work undertaken by Deputy Principal Geoff Seletto, and it's wonderful to see that, with support from Federal and State Governments, and other local organisations, the build is now finished and mental health professionals are using the various consulting and group rooms to benefit our local community. 
Club members were delighted to be present for the 'cutting of the ribbon', marking the Official Opening of the Centre on Friday 25 March, 2022 (see previous page) 
What's our next Project with Rosebud Secondary College?  
We are delighted to further our partnership with a new Mentoring Program which will get underway during Term 1, 2022, designed to connect students with local business and community members, to assist those students into the world of work. 
Supporting Peninsula Film Festival 2022
We were delighted to, once again, be Platinum Sponsors for this year's Film Festival - March 11-13.
A great opportunity to support this local initiative. 
Support for Drought and Bushfire Relief for East Gippsland
The ongoing plight of so many farmers affected by the horrific bushfires while they work to regenerate their land has been recognised by the Club in a grant for re-pasteurising of damaged land.
We were pleased to be able to support the Drought and Bushfire Relief Fund with a top-up of funds raised through the highly successful Ride to Conference.
NYE 2022 - Supporting our First Responders
Now in its 8th year, Rotarians from Rotary Rosebud-Rye prepared a good nourishing meal for 90+ police officers and first responders, before going out on duty for the rest of the night. 
With officers all fed, they were addressed at the 7.45pm muster.  Teams could not resist grabbing a sausage in bread on the run as they headed out to protect our homes, our businesses and our safety on what must be the busiest night of the year.   Having served all present, the team prepared meals for the night shift and any others who might come in later during the evening. 
Initially a service sponsored entirely by the Rotary Club, over time the local community has also embraced this initiative, and we acknowledge the support of local businesses:  Greg's Family Gourmet Butchers and Woolworths Rye who donated the entire meal, while Bakers Delight Rye once again supported us by providing dinner rolls and bread at half-price. 
Well done to Barry and Lynne, Darren and Kate, Bernard and Doris and Doug for once again preparing, and serving the meal. 
Club Supports 1st Multicultural Encounters Festival for the Peninsula  
We were pleased to partner with Wellsprings for Women in their event - the first for the Peninsula - on 23rd January, 2022. 
The event was designed to foster a sense of appreciation for Victoria's diverse multicultural community, break down barriers and foster a sense of social cohesion.  The Club contributed funds to provide the stage and PA equipment. 
Whilst not a huge crowd on the day, it was a great start and we were pleased to be part of it!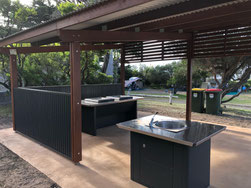 $35M extra needed for World Class Trail    (extract: Mornington Peninsula News 7/4/2022)
ALTHOUGH billed as destined to be one of "the great walking and cycling trails of the world", the Peninsula Trail remains years and at least $35 million away from of being completed.
Mornington Peninsula Shire Council says work will start in March 2023 and end in April 2024 on the Somerville-Baxter section, but no date has been set to complete other "missing links".
About half of the trail is in place.
Meanwhile, the peninsula's "cluster" of eight Rotary clubs has decided to get involved as part of their Australian Centenary Project.
Each club will be involved by installing benches, picnic tables, barbecues and bike stands.
Assistant district governor Peter Rawlings said Rotary's brand will appear across all council material and signage.
The Peninsula Trail, when completed, will be a network of around 100 kilometres of trails connecting communities and tourist attractions.
Mornington Peninsula Shire Council has committed $10 million the $50 million project, the state government $3 million and federal government $2 million.
Council has identified the Peninsula Trail as a major COVID-19 recovery project, estimating it will bring $111 million in direct economic output and creating more than 250 full-time equivalent jobs during construction phase.
Mr Rawlings said clubs had been working on the "exciting" project for three years, but the idea of the linking trail had been floating around for about 30 years.
"We know it might take 10 years to complete, but nearly three years since it kicked off we are buoyed by progress to date," he said.
"And so far, it has avoided any major delays due to COVID."
Mornington Rotary Club member and chair of the working group, Ross Kilborn said hoped the rest of money "can be secured".
Rotarians hoped the trail could eventually reduce traffic congestion and carbon emissions, consistent with the service clubs' new area of focus, environmental sustainability.
According to community feedback to the council's budget, footpaths and walking trails are a priority for peninsula communities, drawing most online votes.
In addition, community consultation involving 3000 residents in 2021 identified better walking and cycling infrastructure as a community priority.
A news release issued by the shire stated predicted the completed Peninsula Trail "will take its place among the great walking and cycling trails of the world such as the Route de Vins in France".
"It will connect to Melbourne's Bay Trail, enabling cyclists to travel off road from the centre of Melbourne to the tip of the Mornington Peninsula at Portsea, with another branch running along Western Port to Balnarring and the hinterland."
The same news release quoted the mayor Cr Anthony Marsh as saying the trail had the potential to attract off-peak and mid-week tourists and more evenly disperse them across the peninsula".
"[The trail] will offer exciting new opportunities for guided walking and cycling tours of the peninsula's vibrant food, wine and art scene. It will also unlock the potential for eco-tourism, as well as Aboriginal cultural and historic tours."
Details at facebook.com/thepeninsulatrail or shape.mornpen.vic.gov.au/peninsula-trail
Keith Platt and Liz Bell
First published in the Southern Peninsula News – 5 April 2022
 Weekly Club Meetings 
Following the recent Club Member Survey, members have indicated they wish to continue 'business as usual'..... so 
'In Person'  Meetings - Wednesdays fortnightly (6 for 6.30pm) - 2nd and 4th Wednesdays (but members can still join via Zoom if they wish to) 
Meetings via Zoom - 7pm - 1st and 3rd Wednesdays  
5th Wednesdays - usually our social get-togethers.
Thanks to Technology/IT/Support Director Bernard Wong for continuing to enable these to happen.     
SAVE THE DATE! 
Club Members joined Past President and District Governor Elect, Paul Mee, together with Adele, in enthusiastically promoting next year's District Conference at this year's District Conference, at Traralgon on 27th February, 2022. 
The event with the theme 'Leadership in Action', will be hosted by Rotary Rosebud-Rye, and held at the world class RACV Resort at Cape Schanck from Friday 24th to Sunday 26th February, 2023. 
Rotary Club of Rosebud-Rye Inc Annual Report for the Year Ended 30 June, 2021.
The Annual Report for the Year Ended 30 June 2021 was presented to members at our AGM on Wednesday 24th November, 2021
RCRR Annual Report 2020 2021 for AGM 24
Adobe Acrobat Document
4.5 MB
RCRR Enterprises Limited - first Annual Report 2020 2021 - was presented to members at the RCRR Enterprises AGM on Wednesday 24th November, 2021
RCRR Enterprises Annual Report 2020 2021
Adobe Acrobat Document
2.7 MB
Discover Rotary
A presentation for anyone wanting to know more - and consider joining Rotary.
Discover Rotary RCRR.pdf
Adobe Acrobat Document
3.1 MB
Rotary Club of Rosebud Rye Strategic Plan - 2020 2023
Following an extensive consultation process, with assistance from Phil Dressing (District 98210), our Strategic Plan was signed off by the Board at the July 2020 meeting.
RCRR Strategic Plan 2020 2025 approved J
Adobe Acrobat Document
385.7 KB