About the Rotary Club of Rosebud-Rye Inc.
The Club's Changeover - 29 June 2022
Rotary District 9820 Changeover - 26 June 2022 - RCRR Past President Paul Mee took office as the District Governor for the 2022/2023 year
We support others - locally, nationally, globally
Some Current and Recent Projects
Partnership with Eastbourne Primary School develops further
Students at Eastbourne Primary School will soon be able to enjoy the benefits of having a new Wellbeing Hub which is currently being built.

The Club has furthered the partnership with the school in providing funding to assist with the purchase of furniture and fittings for the new Wellbeing Hub, which includes consulting rooms, break-outs, a quiet space, and a place for just discovering yourself! 
National Youth Science Forum (NYSF) Students share their experiences
On 27 July 2022, three Year 12 science students from Rosebud Secondary College gave an impressive and informative report on their interaction with like-minded students, presentations with scientists and the opportunity to network with others, through the National Youth Science Forum. 
It was heartwarming to hear how they had grown and gained so much from their experience. Their teacher also provided updates on past students who had attended previous NYSF Forums, also sponsored by the Club, and the work they have gone on to do. 
Support for Drought and Bushfire Relief for East Gippsland
The ongoing plight of so many farmers affected by the horrific bushfires while they work to regenerate their land has been recognised by the Club in a grant for re-pasteurising of damaged land.
We were pleased to be able to support the Drought and Bushfire Relief Fund with a top-up of funds raised through the highly successful Ride to Conference.
Peninsula Trail Project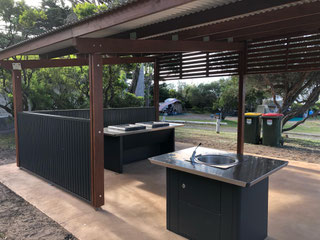 New BBQ Shelter to be built on the Capel Sound Foreshore
A new partnership with the Capel Sound Foreshore committee leads to next development in bringing the Peninsula Trail Project to fruition.  
As part of the project which brings together all of the Rotary Clubs across the Mornington Peninsula in partnership with the Mornington Peninsula Shire Council, Rotary Rosebud-Rye is partnering with the Capel Sound Foreshore Committee in building a BBQ Shelter adjacent to the Peninsula Trail, as it winds through the beautiful Capel Sound Foreshore reserve.
After a presentation at the Club Meeting, the Board approved this project at its meeting on 17 August, 2022. It is to be finished by Christmas 2022, just in time for enjoyment of campers, bike riders and local community members.

Watch this space for updates as this work gets underway. 
Our Weekly Club Meetings
'In Person'  Meetings - Wednesdays fortnightly (6 for 6.30pm) - 2nd and 4th Wednesdays (but members can still join via Zoom if they wish to) 
Meetings via Zoom - 7pm - 1st and 3rd Wednesdays  
5th Wednesdays - usually our social get-togethers
Successful Fundraising Lunch helps provide clean water for Philippines communities
President Libby Wilson, together with incoming District Governor Paul Mee, and Club member Pat, cut the cake at the Fundraising Lunch; proceeds from the lunch has purchased two Sky Hydrants to ensure a secure, cheap and sustainable clean water supply for communities in the Philippines. 
SAVE THE DATE! 
Club Members joined Past President and District Governor Elect, Paul Mee, together with Adele, in enthusiastically promoting next year's District Conference at this year's District Conference, at Traralgon on 27th February, 2022. 
The event with the theme 'Leadership in Action', will be hosted by Rotary Rosebud-Rye, and held at the world class RACV Resort at Cape Schanck from Friday 24th to Sunday 26th February, 2023. 
Rotary Club of Rosebud-Rye Inc Annual Report for the Year Ended 30 June, 2021.
The Annual Report for the Year Ended 30 June 2021 was presented to members at our AGM on Wednesday 24th November, 2021
RCRR Annual Report 2020 2021 for AGM 24
Adobe Acrobat Document
4.5 MB
RCRR Enterprises Limited - first Annual Report 2020 2021 - was presented to members at the RCRR Enterprises AGM on Wednesday 24th November, 2021
RCRR Enterprises Annual Report 2020 2021
Adobe Acrobat Document
2.7 MB
Discover Rotary
A presentation for anyone wanting to know more - and consider joining Rotary.
Discover Rotary RCRR.pdf
Adobe Acrobat Document
3.1 MB
We are currently working on refreshing our Strategic Plan from 2022-2025..... here is our achievements to date and potential future plans to review.
RCRR Strategic Plan V 3 2020-2025 - Refr
Adobe Acrobat Document
803.3 KB