Rotary International - more of our overseas projects
Safe Water for every Child - part of Rotary International's Focus on 'Water Sanitation and Hygiene'
On Sunday 29th May, 2022, the Club held a Fundraising Lunch at the Italian Club in Rosebud with the aim of raising $10,000 to purchase Sky Hydrant Water Filtration systems.

Groundbreaking, inexpensive and effective, the Sky Hydrant Water Filtration systems provide safe water for communities, thus improving the health outcomes and futures for children and families. Working with Disaster Aid Australia, the club's current effort's plan for this to be in communities in the Philippines. 
Pictured here with a Sky Hydrant is Cr Antonella Celi (Mornington Peninsula Shire Councillor for Seawinds Ward), together with Pat Sansonetti who had the brainwave idea to hold the lunch, and family members. 
'Teacher Scholarships in Cambodia - part of Rotary International's Focus on 'Basic Education and Literacy'
For some years, the Club has been working with Ptea Teuk Dong School in Cambodia, firstly with supporting the school in the building of a new toilet block, and over the past two years, providing scholarships to ensure that local teachers are supported, and they, in turn, support their students.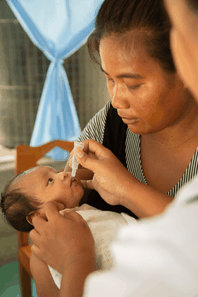 Rotary International's End Polio Now campaign
The Club has continued to provide financial support for this successful project over many years. The project, run in conjunction with the Bill and Melinda Gates Foundation, and UN organisations, aims to rid the world of Polio.
We're almost at the finishing line!  'Wild Polio' only now exists in a handful of countries, including Afghanistan and Pakistan - and there is now a real push to end it for good!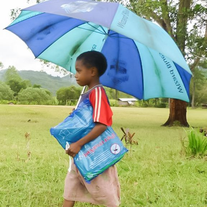 Rotarians Against Malaria (RAM) 
In 2019, 67% of all malaria deaths were children under 5 - that's 274,000 children.

Our Club, particularly through our President Libby, is involved in the RAM program, and is supporting the program in Vanuatu with the provision of bed nets and indoor residual sprayers, which we use to protect vulnerable women and children from this deadly disease.
Pictured: A new bed net on its way to a new home.