Youth Exchange 2015-16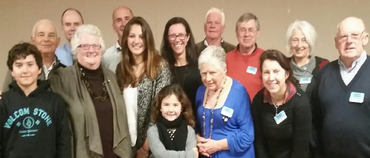 Tuesday was a special
night for Rosebud-Rye
Rotary when we formally
welcomed Youth Exchange Student, Camilla Santoro, together with her host family, Lisa, Steve, Riley & Pippa Remato (top left) when
they joined us for dinner.
Camilla is from Brescia which has a population of approx. 200,000 and lies at the foot of the Alps in the north of Italy between the cities of Milan and Verona.
Camilla's hobbies are photography, travel, volleyball, cycling and hiking and she belongs to her school's Interact Club. The Rotary Club of Brescia Vittoria Alata Rotary Club in District 2050 sponsored Camilla on the Exchange Program.
Youth Exchange 2014-15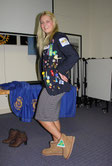 Neighbouring clubs RC of Dromana and RC of Rosebud-Rye got together with four host families and sponsored Lyz Holz, from North America, to experience this past year in our neck of the woods. She leaves our shores this week having made a bunch of life long friends, with amazing memories and a pair of genuine Aussie Ugg Boots.
If you'd like your child to enjoy the life changing experience of being a Rotary Exchange student, come along to a meeting sometime and find out about this and the other opportunities that Rotary has to offer for young people.