Youth Projects supper event 20th May 2014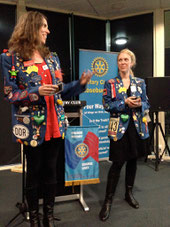 Sarah Fisher and Narelle Donald met 23 years ago as they prepared to embark on their year away from home, living in a foreign country with host families, during their involvement in the Rotary Youth Exchange Program.
During this life changing 12 mth period, Sarah and Narelle designed their own one-of-a-kind Rotary jackets to show where they'd been and who they'd met along the way.
We were indeed fortunate to have these two women share their adventures with us at our recent Youth Projects event on May 20th at Rosebud Country Club.
At this event, we showcased the wonderful work that Rotary does throughout our district, Australia and internationally. Our audience heard from, and engaged with, past participants who spoke of how Rotary can help young people now and in the future.
Our guest speakers and topics included:
Claire Burns – Local School Scholarships                
Bob Cooper – Rye Yacht Club Sailing Program             
Kirra Pickering & Emily Barr – RYLA & Rotaract    
Drew King – Rosebud SC World Challenge 
Martin Lowe – District 9820 Director NYSF
Declan Wain – Participant in NYSF          
Adam Vardanega – Science Experience                    
Sarah Fisher & Narelle Donald – Rotary Youth Exchange   
Julie Davey – The Attitude Books Project    
Will we have a new Rotaract club on the Peninsula?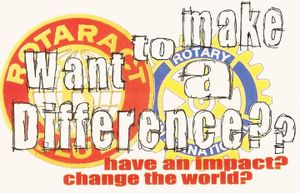 Rotaract is a global organisation that empowers students and young professionals to create positive change in their local communities and around the world.
It provides unique opportunities that assist its members in becoming the business and professional leaders of tomorrow.
Our local team
At our recent Youth Projects event, we heard from two members of the Peninsula Rotaract Club who are passionate about this organisation and what it offers to young people everywhere.
Join them on Facebook:
Emily, Kirra, Damian and Chris who attended our event, hope to see another club start up on the southern end of the Peninsula, so if you would like to learn more about Rotaract from these capable and generous young people, please like and contact them on facebook https://www.facebook.com/PeninsulaRotaractClub.
Sponsored by Rotary International, Rotaract Clubs across Australia are part of a worldwide organisation of 210,000 individuals in 9,100 clubs covering 170 countries.
Members engage in a wide range of activities including social, professional and community events.