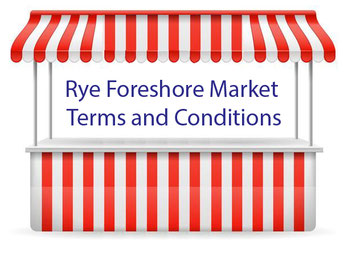 TERMS AND CONDITIONS FOR THE GRANT AND USE OF STALLS AT
THE RYE FORESHORE MARKET  
The RYE FORESHORE MARKET is operated by
the ROTARY CLUB OF ROSEBUD-RYE Inc (RCRR) ABN 64581598375
GENERAL TERMS
1.    These Terms and Conditions apply to all persons operating stall sites at the Market.
2.    For the purposes of these terms and conditions, "person" includes any person who applies for a stall ('Applicant') and any person who occupies that stall for the purpose of selling any goods regardless of whether they are the Applicant or not. A person includes a corporation.
3.    These Terms and Conditions may be amended from time to time at the sole discretion of RCRR including by the addition, deletion or variation of terms and conditions.
4.    Where RCRR amends the Terms and Conditions it will post them on its website within a reasonable time. RCRR will also have copies of the new Terms and Conditions available at the Rotary food van located at the market. Applicants will be deemed to have agreed to the amendments by continuing to maintain a stall at the Market.
5.     RCRR reserves the right to publish photographic images of Applicant stall sites, taken at the Market for use in their promotional material.
6.    The Rye foreshore Market is a smoke free event.
7.    This includes all stall areas and all areas deemed by council to be the Rye Foreshore Market areas of operation.
BOOKINGS AND PAYMENTS
8.     Bookings must be made by 5pm on the Wednesday before market day.  
9.     Sites will be allocated on the following Thursday and emailed to stallholders.  
10. Payments are due no later than the 3pm on the Friday before the market day.
11. Stallholders arriving at the market, without having paid online, may be refused.
12. Cancellations due to unforeseen circumstances, may, at the discretion of RCRR, receive a credit for a future market day.
     COMPLIANCE AND CONSEQUENCES OF BREACH
13. The Market is operated by the Rotary Club of Rosebud-Rye under Licence from the Mornington Peninsula Shire Council.
14. Applicants must comply with all relevant laws and any requirement of any authority including Mornington Peninsula Shire Council in connection with the Market and the use of the stall sites.
15. Applicants must comply with all directions given by persons representing RCRR.
16. Any breach of the Terms and Conditions by an Applicant may, at the absolute discretion of RCRR, result in the booking and/or allocation of a stall site being withdrawn and/or further bookings of stall sites not being accepted.
NO ENTITLEMENT TO A STALL AND  RIGHT TO DETERMINE DISPUTES
17. An Applicant has no right to a stall and the allocation of a stall is at the sole discretion of RCRR, which is not obliged to provide any reasons for its decision(s).
18. Where an Applicant is granted a site for a stall, the Applicant's allocation of a stall and its ongoing use is subject to the Applicant agreeing to and continuing to comply with the Terms and Conditions.
19. Where RCRR considers a booking or allocation to be detrimental to the Market or to other stallholders, RCRR expressly reserves the right to:
a.  cancel any booking of a stall site; and/or
b.  reallocate a stall site irrespective of the stall site number indicated on a stallholder's ticket; or
c.  cancel any booking in circumstances where a stallholder has submitted false or misleading information.
20. RCRR reserves the right to determine any dispute between Applicants in so far as any such dispute is in connection with the Market or the use and occupation of stall sites.
PRECONDITIONS TO OPERATING A STALL
21.Applicants must ensure that their activities (both actions and omissions) do not endanger the safety or security of any persons at the Market.
22. Applicants must report to persons representing RCRR any incident or accident to any person or property that involves a risk to health and safety, injury, loss or could otherwise be expected to give rise to a claim.
INSURANCE
23. Applicants must hold their own insurance cover and provide RCRR with a certificate of currency in respect to that policy.
TRADING HOURS AND WEATHER CONDITIONS
24. The Market trading hours are 7:30am – 1pm. Stall sites may be occupied from 6am for set up.
25. Stall sites not occupied by 7am may be forfeited without refund.
26. The Applicant must pack up its stall site so that the Market area is returned to a public space by 1pm.
27. RCRR will operate the Market in a variety of adverse weather conditions and representatives of RCRR will remain in attendance irrespective of adverse conditions.
28. Applicants are advised to bring their own protection against the elements.
STALL SITES
29. Applicants may only operate within their allocated stall site. The stall space is defined by the white markings on the grass, set out by RCRR on the Friday before Market day.
30. Each site is 3x3metres
31. Each site is separated by a COVID safe area of 1.5 metres. Storage of goods is in this area is prohibited.
32. Applicants have no right to sublet or resell to any other person a booked stall without the consent in writing of RCRR.
33. Applicants must keep their stall sites clean and orderly and the surrounding areas free from rubbish and litter at all times. All rubbish and unsold goods must be removed from the Market and/or Car Park promptly and at least by 1pm.
34. All stall equipment including racks, tables, signage etc. must be contained to the stall site boundaries. Public access ways must be clear at all times.
35. Marquees, covers and all stall equipment must be erected securely and weighted at all times. No ropes or pegs are to be used.
36. All equipment must be in good repair and be operated in a safe manner.
STANDARDS OF CONDUCT
37. Applicants must behave with courtesy and respect towards members of the public, other stallholders, persons representing RCRR and volunteers.
38. Applicants must not consume alcohol or drugs at the Market and must not attend their stall if they are in any way impaired by alcohol or drugs.
39. Loud product promotion by Applicants is not permitted.
40. Animals are not permitted in the Market unless on a leash.
41. Applicants are expected to take their waste with them when they leave the stall site and not to dump or otherwise dispose of their waste or unsold goods in the waste bins provided at the Market.
42. RCRR reserves the right to refuse admission to the Market to any person without giving any reason and to eject or cause to be ejected any person and/or his/her goods and chattels without giving any reason. This decision is final and binding.
43. Applicants suspected of committing a criminal offence will be reported to the police.
44. Firearms are NOT permitted in the Market.
CATEGORIES OF GOODS PERMITTED FOR AND PROHIBITED FROM SALE
45. RCRR has sole and absolute discretion to decide which products are permitted to be sold within the Market and is not obliged to provide any reasons for its decision(s).
46. The Rye Foreshore Market is classified as a 'Make, Bake and Grow' market.  RCRR aims for 70% of stalls selling homemade and home grown goods.
47.  Applicants are not permitted to sell:
(a) Animals, poisonous products, prescription medication, illegal goods, pornography, firearms, ammunition, explosives, weapons including knives.
dangerous goods, counterfeit or copied goods,
(b) Raffle tickets (without special permission from RCRR).
(c) Goods which may be considered, in RCRR's sole and absolute
discretion, to be offensive to the general public. The determination of
whether goods may be considered to be offensive to the general public
is final and binding. No reasons or RCRR's determination will be
provided and no discussion will be entered into. 
LEGAL OBLIGATIONS AND STANDARDS
48. By applying for a stall the Applicant accepts responsibility for all of its legal obligations under any Acts, Regulations, By-Laws, Codes, Guidance and Standards or other sources of legal duties and any other legal requirements relevant to the sale of its goods including the law of negligence. The Applicant understands and accepts that it is strictly liable for the legal obligations and that lack of knowledge is not an acceptable excuse or defence.
MOVEMENT AND PARKING OF VEHICLES IN THE MARKET AREA
49. Applicants are not permitted to use vehicles within the Market after 7.30am or to remove vehicles from the Market area until 1pm unless directed to do so, or with the permission of Market management.
50. When vehicles are moved during permitted hours, movement within the Market must be made with great care, but in particular by Applicants driving vans or vehicles with limited visibility of their surrounds or those with trailers impacting on their manoeuvrability.
51. No persons shall ride in a vehicle or on a trailer other than in an Australian Standards compliant seat with a safety belt secured.
52. Pedestrians ALWAYS have right of way.
53. RCRR is not in a position to and does not provide traffic control. Some RCRR volunteers may attempt to assist with traffic congestion at exits or other areas. However RCRR volunteers are not trained in traffic management and at all times drivers of vehicles carry full responsibility for safety.
54. Drivers should drive at a walking pace, not to exceed 5kph, within the Market area.
55. The driver is totally responsible for the parking and movement of the vehicle and/or any trailers. Reliance on any third party for direction, signalling or guidance does not diminish the driver's responsibility.
56. Applicants may park their vehicle within the stall site allocated to them or in the off-site parking.
57. Applicants must not park vehicles:
(i) in other vacant stall sites or in any other area within the Market;
(ii) Overnight in the Market area. This is not permitted by the Mornington Peninsula Council;
(iii) In contravention of parking restrictions within the locality of the Market. There are no parking exemptions for Stall Holders.
RCRR IS NOT AN AGENT
58. RCRR is not an agent for any Applicant and accepts no responsibility for any transaction entered into by or on behalf of an Applicant.
RELEASE AND INDEMNITIES
59. The Applicant uses and occupies the Market and/or the stall site allocated to him or her at his or her own risk and releases RCRR from all claims, causes of action, complaints, liability, demands, costs or expenses that any person might have in connection with or arising in any way from the use and/or occupation of the Market and/or or stall site by the Applicant or people acting for or on behalf of the Applicant.
60. The Applicant indemnifies and holds harmless RCRR, including Market management, staff and volunteers, against all claims, causes of action, complaints, liability, demands, costs or expenses that any person might have in connection with or arising in any way from the use and/or occupation of the Market/and or stall site by the Applicant or people acting for or on behalf of the Applicant.
61.   The Applicant indemnifies RCRR for any action against it for stolen or illegal goods sold by the Applicant.
Click here to go back to the Rye Foreshore Market page