Peninsula Short Film Festival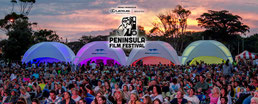 The Annual Peninsula Short Film Festival is a free film festival with the largest viewing audience in Victoria. It is held over the first weekend in February each year on the Village Green in Rosebud. The highlight is on the Saturday evening; a free event attended by thousands of people enjoying this iconic community event. 

In 2021, it will be held over the weekend of February 5 - 7. 
The Rotary Club of Rosebud Rye is a big supporter and a major sponsor of this great local event which is attended by thousands of visitors and locals.  As a sponsor, the Club presents one of the awards each year. 
The Festival features local actors, directors and producers who have made local short films, showcasing the terrific talent and skills in our region.
The Rotary Club provides delicious food and drinks and our marquee showcases other Rotary events and activities such as the Rosebud Secondary College Wellness Centre. 
Being held on the first Saturday of the month (of February), it coincides with our monthly Rotary Rye Foreshore Market, making it a huge weekend for all club members and volunteers.