Southern Peninsula Amateur Radio Club (SPARC)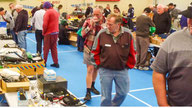 This is another annual event held in Rosebud each November.
The Radio Club members enjoy taking breaks from their busy schedule during the day to buy delicious burgers, drinks and hot jam donuts from the Rotary Club's Food Van.  We also assist with parking for this event.
An enthusiastic group who enjoy their passion for radio technology which, through our partnership, allows our Club members to raise funds to support local community needs.